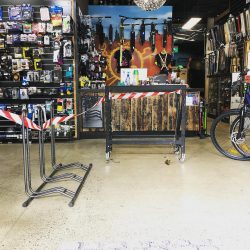 Happy Wheels is open so we can ensure that you can still get around on your bike. We take your safety and our staff's safety very seriously and so we have made a number of changes in our store.
We have set up a little area in our store where you can safely discuss your servicing needs or purchasing needs while maintaining social distancing. We still have plenty of stock of bikes, parts and accessories to support you through this time.
Before you walk throughout the store, we request that you sanitise your hands and put on a pair of disposable gloves that we will have ready at the front counter.
Before our mechanic works on your bike, your bike is sprayed down with disinfectant spray. When you pick up your bike, disinfectant spray and hand sanitiser are available at the front desk for you to use and spray on your bike before you leave the store.
Our surfaces such as benches, water filter, door handles, light switches, computer equipment and the EFTPOS machine are cleaned with disinfectant at the start of each day and throughout the day.
Each mechanic has a tub of hand sanitiser at their desk to use before and after working on bikes being serviced.
All bikes on the floor are sprayed down with disinfectant. If any of our staff members display any cold/flu like symptom, they will remain home until well again.
We have good stock levels to support you with punctures, lights, locks, gloves, jackets, and other cool/cold weather gear.
It would be great to see you so we can help you get out there on the bike.
As an extra precautionary measure, we have also bleached shop owner and head mechanic Stew. ?
Take care all!