2019 Winter Sale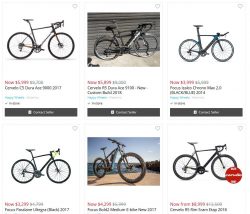 It's time for our Winter Sale.
read more!
Welcome to happy wheels bike shop
We service and sell road bikes, time trial speed machines, hybrids/commuters, MTBs, & youth. Our bike servicing philosophy is to service & build every bike as if it were our own. The bike brands we specialize in are Cervelo, Focus, FELT, Look and Avanti. We have a wide range of parts & accessories & anything we don't have have, we'll order in for you. We have wheels that meet the needs of the commuter, mountain biker, through to high performance race wheels. We have decades of riding, A-grade racing, world championship bike and triathlon racing, and mechanics experience, so you are in good hands at Happy Wheels when it comes to buying a bike or getting it serviced. Want to know more about the Happy Wheels team? Click here!
How many bike shops do you talk to the man, who owns the shop, fixes the bike, rides like a kick arse legend and pays as much attention to your bike as if it was a bike ready to enter a pro race? Happy wheels and Computa rock nothing else comes close.
Andrew Howse